Officers Shot by Snipers Amid Dallas Protest Against Police Killings
Eleven police officers shot in an ambush-style, including four fatally, in Dallas Thursday night by at least two snipers, amid a protest against the recent police shootings of two black men, Alton Sterling in Louisiana, and Philando Castile in Minnesota, according to the Dallas Police.
Officials said the gunmen aimed to kill as many officers as possible. Among the officers killed, at least one was a Dallas Area Rapid Transit officer and at least one of the wounded was a DART officer.
One suspect is in custody, following a shootout with Dallas SWAT officers, police said, and a suspicious package was found near the suspect's location. Police said the package is being secured by the bomb squad.
Another individual, whom police initially identified on Twitter as a "suspect" and circulated a photo of on Twitter, has turned himself in. In a statement, they referred to him as a "person of interest."
This is one of our suspects. Please help us find him!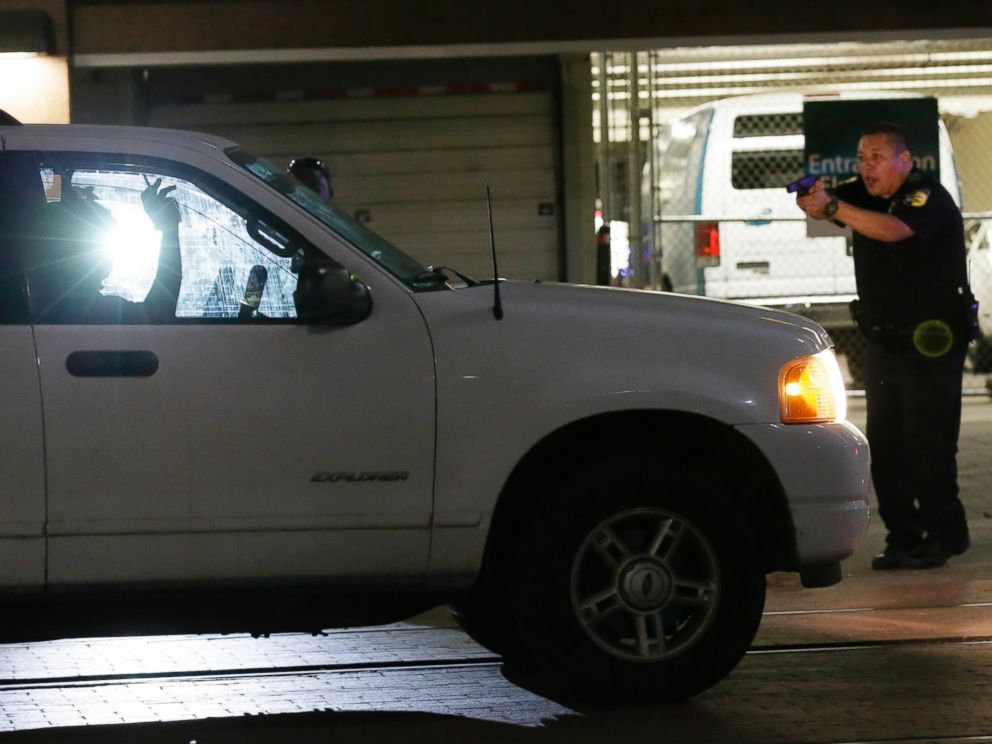 Chaos erupted just before 9 p.m. when a pair of snipers in elevated positions opened fire on officers, who were protecting protesters, police said.
Some of the 11 officers were shot in the back, police said, adding that one civilian was wounded.
In an earlier statement, Dallas Police Chief David Brown said that two of the officers were in surgery and three in critical condition.
Police said the suspects were situated on two different perches or garages.
Marie Saavedra, a reporter with ABC Dallas affiliate WFAA tweeted, "MANY gunshots heard in video I captured in #Dallas, just before 9p as rally marched through downtown."
MANY gunshots heard in video I captured in #Dallas, just before 9p as rally marched through downtown @wfaachannel8
Following the reports of shots fired, public transportation was suspended in downtown Dallas: "DART rail and bus service in Downtown Dallas has been suspended due to criminal activity," read a tweet.
Witnesses to the mayhem took to social media, including the Instagram user below, who shot video of individuals running frantically, while shots being fired could be heard.
Earlier in the evening, however, the atmosphere was significantly different, as depicted by these images and video the Dallas Police Department tweeted of the demonstrattion.
In a statement released early Friday morning, Texas governor Greg Abbott said. "Our thoughts and prayers are with the Dalllas law enforcement community and the Dallas Area Rapid Transit (DART) officers killed and injured this evening…In times like this we must remember — and emphasize — the importance of uniting as Americans."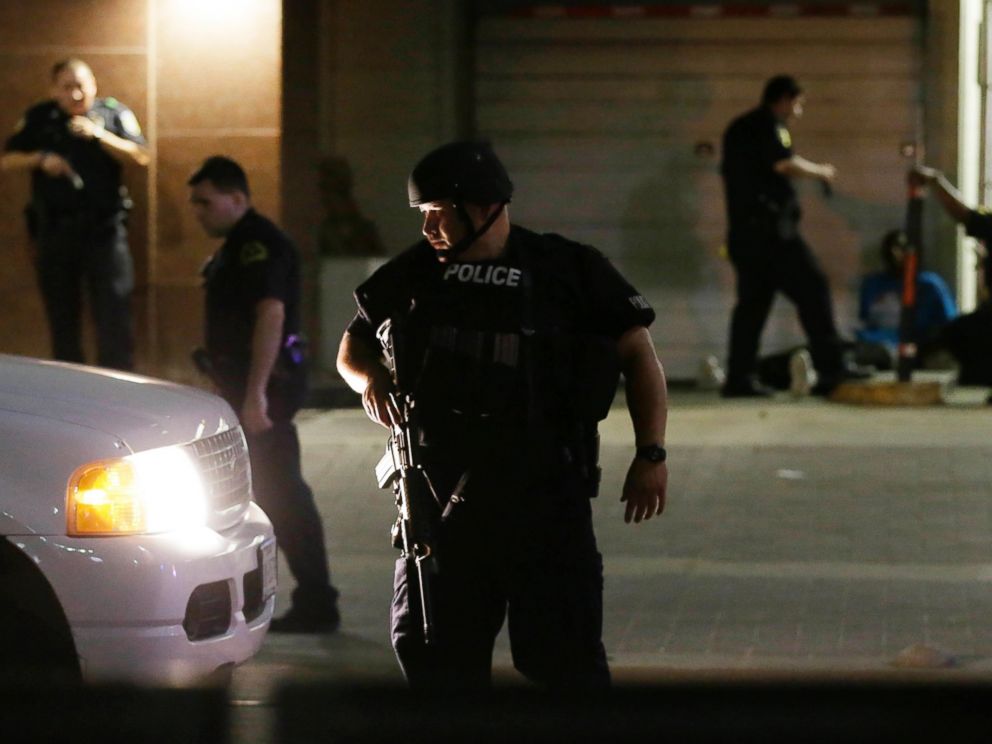 This story is developing. Check back for updates.
Get real-time updates as this story unfolds. To start, just "star" this story in ABC News' phone app. Download ABC News for iPhone here or ABC News for Android here.